Welcome to Bur Oak Pottery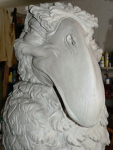 Welcome to Bur Oak Pottery, a small family owned pottery company based in Lake Mills, Wisconsin. Owned by Ed and Laura Klein, Bur Oak specializes primarily in art nouveau style pottery inspired by the works of the Martin Brothers Pottery.
Each piece is sculpted by hand — no molds or stamps are ever used — and are fired primarily using a wood fire and salt glaze.The ashes from the wood fire and the salt glaze interact in differing ways during each and every firing, ensuring that all pieces created by Bur Oak are truly one of a kind originals.
Bur Oak now produces a line of electric kiln fired pieces inspired by the turn of the century Royal Daulton mice and frogs as well as the beauty found in nature. These pieces are full of whimsy and charm, are affordable (many pieces are under $100) and are customizable to your taste. Electric kiln firing provides clean, true colors and a shorter time between firings. Please contact us if you would like to learn more.
Our gallery contains a sampling of previous pieces that we have created. Although it is not possible to order a piece exactly like those seen in the gallery, you may order a piece in the same style as anything you see here and provide details of how you would like it to look, with no obligation to purchase if you're not pleased with how the piece turns out.
For more information on ordering pieces and payment options, please see our ordering information page.