Note to concerned collectors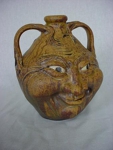 Ed and Laura in no way intend nor have a desire to have a negative impact on the Martin Art market. They do understand that the art pottery market can be manipulated by dishonesty, but there are things that Ed and Laura are doing to try to prevent their pieces from being passed off as authentic Martin in the secondary market. All Bur Oak pieces are marked with the Bur Oak name, each piece is signed by the artist.
The Birds in particular are being prominently marked. The top of the base has always been marked with the Bur Oak name, the date and signed by the artist. Beginning in May 2004, in response to concern from Martin collectors, Ed has begun to mark the birds in 3 separate places. He will continue to mark the top of the base, in addition he will be marking the inside bottom rim of the base as well as the inside rim of the head of the bird.
Also, the clay that Bur Oak uses is a significantly darker color than that used by the Martin Brothers Pottery.