Ordering Information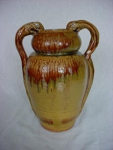 Bur Oak maintains a Gallery that showcases works that have previously been done. At this time, Bur Oak does not accept payments via Credit Card, although we do accept money orders in U.S. dollars and wire payments. Those in the Minneapolis area please visit Century Studios to see some of our available pieces.
Bur Oak is happy to accept customized orders as long as the piece retains a retail appeal. For example, you may request a bird similar to that of Bird 2 from our Gallery, or a face pot with a certain type of expression. This, while customizing it to your taste, will still appeal to our general buying public - should in fact the piece not meet your expectations.
No deposits for orders are required and the customer has no obligation to purchase the piece after it's been fired. Because of the nature of wood firing we cannot guarantee size or color of a piece which is why Ed and Laura do not want to obligate anyone to purchase a piece that does not meet their expectations at the end of the process. By maintaining a general retail appeal, Ed and Laura can offer the piece to other interested collectors.
For custom orders that would not have a retail appeal, please contact us at sales@buroakpottery.com to discuss the order further.