About Bur Oak Pottery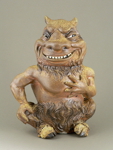 Founded in 2002, Bur Oak Pottery is the realization of a dream shared by Ed Klein and his wife Laura. Both Ed and Laura have worked for prominent potteries in Wisconsin at different points in their lives (Laura continues to work for Ephraim Faience Pottery, a worldwide known Wisconsin pottery) but they wanted a place where they could create works in a style of art that better reflected their personalities.
Using the talent they were born with, they now enjoy working for themselves — creating an art nouveau style of pottery that is infused with a love of nature and a dark English sense of humor. Ed and Laura are great fans of the wonderful works of the Martin Brothers pottery. They take much inspiration from the Wally birds created by Robert Wallace Martin and have started their own line of birds. They also offer many other Martin inspired pieces such as face jugs and pitchers and grotesque spoon jars. Ed enjoys working on sculpting the birds and creatures. Laura, in addition to throwing all the base forms for every piece at Bur Oak, enjoys making the more stylized vases and spoon jars.
All pieces created at Bur Oak are hand made — no molds or stamps are ever employed in the creation of any piece. Each piece is bisque fired to remove any moisture in the clay, carefully glazed by hand, then either wood fired with a salt glaze, or for some styles of work, fired in an electric kiln.
The wood firing is a ritual unto itself. Good hardwood must be obtained. Enough wood to sustain the 20 hours of firing must be split and stacked before they can start. The fire must be fed constantly until the target temperature is achieved (in excess of 2300 degrees F). Salt is added to the fire, then the temperature must be maintained for at least an hour in order for the salt to melt properly and give the desired effect. Ed and Laura have learned that there is no predictability with wood firing. Opening the kiln after each load is an adventure, glazes react differently each time.
Wood firing continues Ed and Laura's desire to give each customer a truly unique and one-of-a-kind piece of art, since there is little predictability in how something will turn out in the end. Because of that, any time you see a piece that you love, grab it up — you'll never see another just like it.